French Bulldog Puppies In Santa Barbara
When you choose Francoeur French Bulldogs, you'll receive more than a pet. We're an AKC-certified French bulldog breeder serving Santa Barbara and the surrounding areas. We combine champion lines and excellent pedigrees with support and early socialization, so you can trust us for a new best friend who's healthy and suits your lifestyle.
Francoeur French Bulldogs
Discover Our Pups & Adults
Quality French Bulldogs for Sale in Santa Barbara
Frenchies are lively, adaptable and affectionate, making them an excellent choice for any Santa Barbara household. Whether you're a first-time or experienced Frenchie owner, your puppy's genes matter. Genetics gives them the bat ears and easygoing attitude you know and love. Genes also result in stunning colors and types, from platinum to chocolate.
At Francoeur French Bulldogs, we value both genetics and personality. That's why our Frenchies receive tons of love, care and training from day one. We practice unique socialization techniques early on to ensure they're ready for their forever home:
Early neurological stimulation: Starting off on the right paw is essential, and early neurological stimulation (ENS) provides that crucial first step. ENS gives your pup a headstart by improving their immune systems, stress tolerance and cardiovascular system.
The Von Falconer Way: Once they're three weeks old, our puppies learn how to respond to snapping, clapping and other external stimuli. This introduction provides you with a solid foundation for future training.
Crate training: Crate training benefits the whole family. We help your Frenchie feel comfortable in a crate, giving them a safe, private space and making house training and travel easier.
Rule of 7: Your furry friend will encounter many environments, textures and sensations throughout their lives. Thanks to Rule of 7, they'll have the confidence to romp, play and grow no matter where they are.
We're confident your pup will arrive happy, healthy and well-rounded. You can train them using our framework or get professional training from us. Whichever you choose, Francoeur French Bulldogs is here to enhance your pet parenting experience.

Why You Should Pick Our Santa Barbara French Bulldog Puppies
Santa Barbara pet owners know that choosing a reputable breeder is crucial. For decades, we've bred, trained and matched Frenchies with families like yours. Our puppies come with numerous benefits, including:
Early veterinary attention: Enjoy peace of mind knowing your Frenchie receives professional veterinary care from birth to adoption. By the time they come home with you, they'll be dewormed and vaccinated.
A thorough screening process: We strive to match you with your perfect puppy. Our screening process pairs you with a French bulldog that complements your activity level, lifestyle and more. Finding "the one" is easier — and more exciting — than ever!
Even temperaments: Our pups' calmness and excellent dispositions are just two of the qualities that clients love. Their excellent temperaments come from early training and lots of care and support.
Add a French Bulldog to Your Santa Barbara Family Today
Ready for a new family member? Learn more about our upcoming litters now! You can also contact us online for more information about our puppies and processes.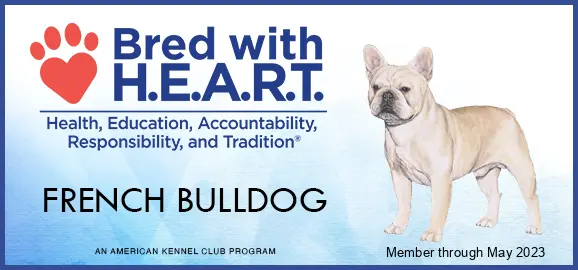 Ready to add a new family member? View our available puppy litter online. Feel free to reach out with any questions.